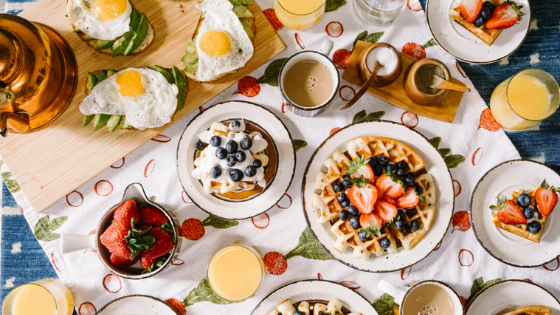 Here are some great ways to host a memorable brunch in you Atlanta apartment!
Essential Tips for Hosting Brunch in Your Apartment
Set the mood with cheerful music.
Audio selection can make or break any party, but this is particularly true in the morning. Hardcore hits and romantic violin music should both be ditched in favor of cheery pop songs or laid-back contemporary music.
Let in the light.
Take advantage of the beautiful views offered from your apartment. Open the blinds and let in as much natural light as possible. Allow guests to hang out on the balcony to take in the fresh air.
Decorate with fresh flowers.
There's no need to clutter your apartment with over-the-top decor. Fresh flowers will do the trick! Peonies, gardenias, and daisies are all wonderful choices.
Keep it simple with a serve-yourself buffet approach.
Allow attendees to serve themselves from a wide selection of tasty breakfast foods. These can be stored on the counters in your kitchen to free up breakfast bar and living room space.
Serve a variety of alcoholic and nonalcoholic beverages.
Mimosas are a brunch staple, but some visitors may prefer a simple cup of coffee or a glass of orange juice in the morning. Offer a range of alcoholic, nonalcoholic, caffeinated, and noncaffeinated options to keep everybody happy.
Hannover Grand at Sandy Springs provides spacious layouts that are perfect for entertaining. Reach out at your earliest convenience to learn more about our floor plans and amenities!