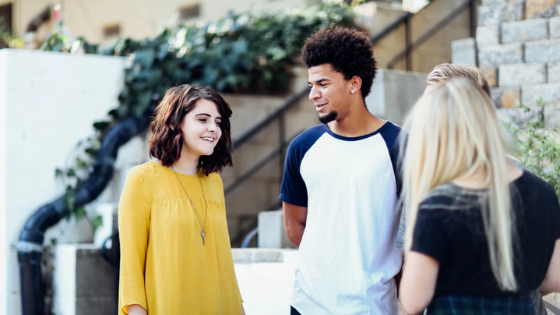 If you want to establish a real connection with your neighbors, these tips can help you break the ice!
Say "Hi"
It really is the simplest thing in the world. An effort to say "Hello" and engage in friendliness can go a long way. It's especially helpful to introduce yourself the first day you (or they) move into the new place. It establishes a connection and makes it easier to strike up conversations. Introducing yourself is how you open the door to new friendships, too!
Be Mindful
Practicing mindfulness when going about your daily routine is definitely helpful when you're the new neighbor or have a new neighbor moving into your community. If you live on the top floor, be sure to watch how you walk around your apartment to be considerate of those living below you. The same goes if when you're cooking or having company over.
It's not always a possibility to be quiet all the time, but showing that you care about the comfort of your neighbor goes a long way!
Cook for Them
Making a meal or dessert for your new neighbor shows thoughtfulness and can help them if they don't have any meal plans when moving in. This can be something simple, like some cookies or even a fruit salad. When talking with your neighbor, ask if they have any food allergies or plan accordingly when coming up with a dish. Food is the biggest connector of them all!
Tips aside, it always helps when neighbors feel like they're part of a community. That's the environment fostered at Hannover Grand at Sandy Springs apartments. Schedule a visit and get a feel for our friendly community today!