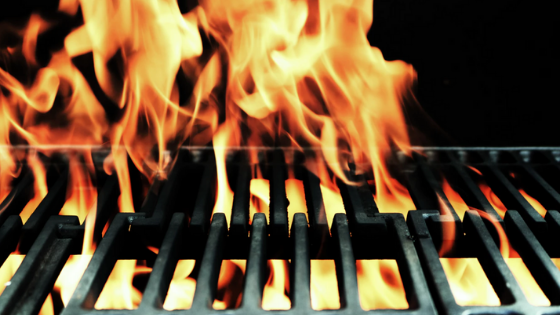 Warm summer afternoons and evenings are great times to make a meal outdoors. While traditional grilling options such as hot dogs might not be healthy, there are plenty of other foods you can make. When you fire up the grill for your next meal, consider making one of the following healthy grilling recipes.
Pineapple Burgers
Instead of having burgers on buns, serve them on grilled pineapple rings for a nutritious boost. Grill turkey or lean beef burgers as you normally would depending on how well done you like them. You can add low-fat cheese to the burgers if that's your preference. Next, add pineapple rings and red onion rings to the grill until they're charred. When your burgers are done, place each one on a pineapple ring. Add the red onion rings and lettuce, then top the burger with another pineapple ring.
Grilled Cauliflower
If you're looking for a side dish or a non-meat entree for your grilled meal, consider making this recipe. Chop the cauliflower into large, thick slices, then mix olive oil, paprika, garlic powder, salt and pepper in a bowl. Brush each side of the cauliflower slices with the olive oil mix. Grill these slices for about eight minutes on each side, then add low-fat cheese. When the cauliflower is done, add chives and low-fat ranch dressing for extra flavor.
Lemon Chicken
To make this tasty and healthy recipe, mix lemon juice, salt, pepper, rosemary, olive oil and lemon zest in a sealable bag. Add chicken cutlets to the bag, and let them marinate at room temperature. Lightly coat sliced leeks with olive oil, then place them on the grill for about six minutes. Place the leeks on aluminum foil, then add a small amount of butter and garlic. Close up this foil packet, and place it back on the grill. Add the chicken cutlets to the grill, allowing them to thoroughly cook. Garnish with rosemary and lemon if desired.
Our community features barbecue and picnic areas, so you can enjoy a meal fresh off the grill. Contact us to get more information about our apartments in Atlanta, GA.