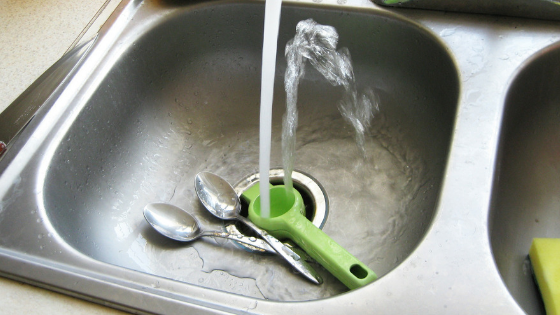 Your garbage disposal helps to pulverize leftover food so that you don't end up with a clog in your sewage line. As the disposal chops up food, small particles can get stuck under or between the blades. As it sits, it can cause your garbage disposal, sink and kitchen to smell funky. Here are a few tips to help keep your garbage disposal smelling fresh.
Scrub It Clean With a Dish Wand
One of the easiest ways to fight odors in your garbage disposal is to scrub the disposal clean using a dish wand. Unplug your garbage disposal and then drip a couple of drops of liquid dish soap on the wand and wet it. Scrub all the way around the inside of your garbage disposal, including the walls and blades. This will help to loosen up food particles and remove grease and grime. Rinse your garbage disposal with water and then plug it back in.
Grind Up Citrus Fruits
If scrubbing your garbage disposal clean with dish soap does not get rid of the smell, you can grind up citrus fruits in your garbage disposal to instantly freshen up the air around your sink. You can use lemons, limes, oranges or grapefruit. Cut the citrus fruit into small pieces before tossing them into the garbage disposal and turning it on. It is important to note that this method may hide smells rather than deep cleaning your garbage disposal.
Use Ice and Salt
The final way to keep your garbage disposal smelling fresh is to use ice and salt. Mix up a cup of ice with a small amount of table salt. Then throw the mixture in your garbage disposal and grind it up. Ice and salt are both coarse, helping to deep clean both small and large crevices, removing buildup and food particles in the disposal. Ice can dull your blades if it is used often, so this method should only be used when regular cleaning does not remove a lingering scent.
Cleaning your garbage disposal can help to prevent smells and keep your kitchen sanitary and inviting. If you are looking for apartments in Atlanta, Georgia, and want a beautiful kitchen, be sure to visit Haven Hannover Grand at Sandy Springs. Our apartments all feature beautiful kitchens complete with an island and stainless steel appliances. Contact us today to schedule a tour.