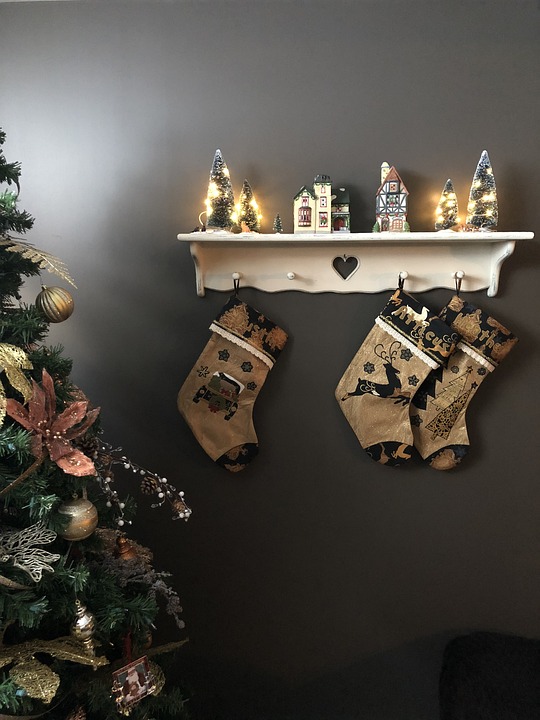 When the holiday season arrives, it's the perfect time to put your creativity to the test. In the spirit and sentimentality of family traditions, you can create an heirloom holiday stocking to cherish for years to come. If you plan it just right, it will become an integral part of future holiday celebrations.
Choose a Theme
A true family heirloom is one that's created with much thought and insight. For an ageless piece of art that documents your family life, go for a well-rounded approach that will be meaningful to future generations. Spend time collecting small artifacts and mementos of each person in your inner family circle, and then artfully integrate them into your stocking design. This means your theme will truly be "family" rather than holiday scenes or sentiments.
Fabric Options
It's perfectly fine to purchase a well-made, solid-colored stocking to use as the base for your creation. If you'd rather incorporate a sentimental piece of fabric such as a wedding dress, baby blanket or grandma's handmade quilt, create a stocking shape using an existing pattern. Make sure to reinforce it with a wool or 100-percent cotton lining for longevity.
Embellishments
Now comes the fun part. Gather small bits and pieces of your family life, ones that represent memories you wish to preserve. Do you have a handkerchief or brooch belonging to your grandmother? How about a pin, bracelet charm, locket, sewing thimble, graduation tassel, guitar pick, train ticket, or a foreign coin from a cherished overseas trip? The options are endless; you can even use an old driver's license, a page from a passport, snips from a letter, or a colorful fishing lure from Grandpa's old tackle box.
Use your creativity and add these items to your holiday stocking using items available in Atlanta, Georgia, crafts stores. You'll need fabric glue, a hot-glue gun, tiny safety pins, and sturdy thread. Be sure to sew a small pocket inside the stocking for tucking in a note describing each item and the story behind it.
Regardless of where you spend the holidays, you'll always love coming home to one of our Atlanta apartments. Call today for move-in information and to schedule a personal tour.